Use of RIS in navigation of the Rhine
Duty and responsibility to use RIS
Vessels navigating the Rhine are required to use the services specified in the Rhine Police Regulations. The CCNR and the waterway authorities additionally recommend using to the greatest extent possible the information provided by RIS and other services. The skipper retains responsibility for decisions related to navigation and to the heading of the vessel. Information provided by RIS is no substitute for the decision to be taken by the skipper.

Vessel equipment for using RIS
To make the best possible use of available RIS, vessels should have the equipment listed below, in addition to the required radiotelephone system for the simultaneous two-channel reception of inland navigation radio (ship-to-ship and ship-to-shore):
Radar for displaying traffic in the immediate vicinity of the vessel,
PC with mobile data communication equipment (GSM) for e-mail and internet services as well as for electronic reporting,
Inland ECDIS equipment including electronic navigational charts (ENCs) for Information Mode or Navigation Mode (with radar overlay); Navigation Mode is preferable with respect to navigation safety,
Inland AIS equipment with position sensor, using Inland ECDIS for display.

Traffic centres (traffic posts)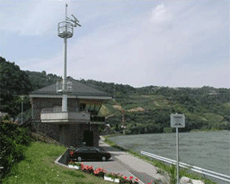 The waterway authorities have established traffic centres (traffic posts) along the Rhine. These are the major shore stations for radiotelephone communication in inland navigation as well as the centres for Inland Vessel Traffic Services.

Notices to Skippers
The waterway authorities offer for the Rhine and other waterways on dedicates websites notices to skippers in electronic form.

CCNR regulations pertaining to River Information Services and equipment
Neither the RIS Guidelines, the standards nor the Guide Concerning Radiotelephone Service on Inland Waterways are of themselves legally binding. For this reason, the CCNR has made additions to its legal regulations in order to introduce services, specify mandatory equipment and to require skippers to comply with standards. The main requirements defined in the Rhine Police Regulations and in the Rhine Vessel Inspection Regulations are listed in the table below.